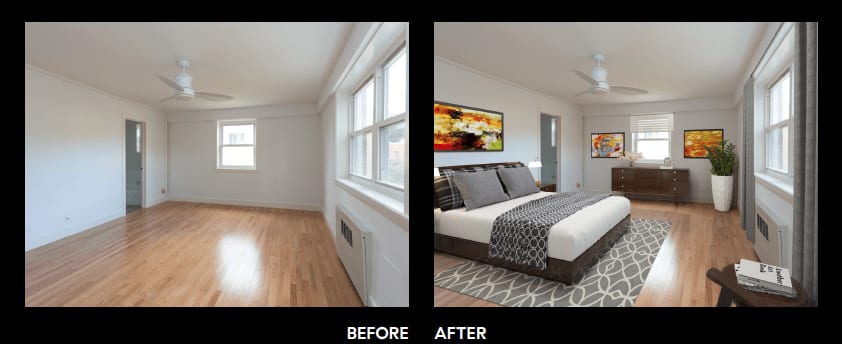 What if you could stage your home without actually putting any furniture in it?
Great staging of a home for sale doesn't just look inviting, it allows buyers to envision how they might use the home's different spaces and rooms. Tasteful and creative staging sells a home faster, and for more money, than an unstaged or even an empty one.
We love helping homeowners stage their properties.
We write
blogs
about it, we include it in our handouts with potential clients and at seminars, and we spend time working with stagers at each property we list. Yes, staging is great, but we have to be honest: it can be disruptive to the seller, and it certainly can get pricey. To help defray the cost, Compass offers a service called
Concierge
, which pays for updates and staging up front and is repaid at the closing. But what if you don't want to give back any of that money at the closing? Or, what if you've moved out of your home, it's all clean, and you just can't imagine putting stuff back into it?
That's where virtual staging comes in. Here's how it works:
Since we've started using virtual staging, we've noted that buyers aren't fazed at all when the actual house is empty when they tour it. They can still refer to our virtual staging photographs to see how a given room can be laid out. And the best part of all? Virtual staging is
much
less expensive. As in, less expensive by a factor of ten.
Why doesn't everyone skip the staging company warehouse and go with virtual design?
There's something special about sitting in a cozy chair and imagining the quiet winter nights you'll be there, reading a favorite novel, when it's
your
home. If a lovely sprig of flowers placed
just so
on the mantelpiece turns an interested person into a viable buyer, we owe it to you as your agents to offer it.
In a nutshell, yes, we do encourage sellers to go with actual staging if it's possible (and our
Concierge
program makes it very possible). However, if virtual staging is the best choice for you and your home, we know how to use it to attract the best buyers.
Do you have questions, or are you ready to get started?
Contact us
. We're here to help.