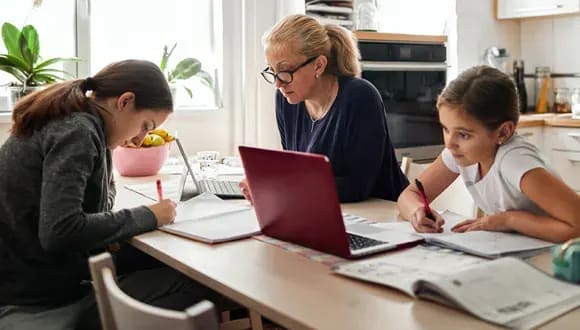 More time at home means more attention to home design in general.
This has definitely come to pass. If you've tried to order a refrigerator or kitchen table lately, you may have had to wait months for it to arrive. More purchases (combined with backed up factories that had closed because of the initial lockdowns), means increased attention to people's homes.
People want healthier living conditions in their homes.
We have definitely seen this change. Clients with (and even without) underlying respiratory conditions are choosing easy-to-clean hardwood floors and non-porous surfaces rather than area rugs or carpeting. People are interested in germ-resistant countertops, touch-free faucets, better-equipped kitchens in general, and even more storage for their toilet paper (lol). Even Liz
got a touch-free faucet for her kitchen.
Outdoor space is good space.
City dwellers and suburbanites alike are looking for more outdoor space. Whether it's a patio in the backyard, a new house close to forested land, or an apartment with a large courtyard, people want to gather safely, connect with nature, and simply get out of the house. Time and again we've heard from clients that part of their home search that access to the outdoors is a must now.
Working from home means it plays the roles of work, school, and even gym.
How many of us used to stop at the gym before or after work? How many had gyms at their places of work? This habit got disrupted big-time during the pandemic. Lots of people hastily bought spin bikes or a set of weights and crammed them into the corner. Still more used the dining room table as their work desk during the day, then cleared it off to put dinner on the table. These stop-gap measures got old at about month four; many have started to look for more permanent solutions.
What was temporary has become long-term. That means big changes.
Many buildings that were incomplete at the start of the pandemic have updated their plans to include high-power air filtration systems. Some people who got sick of having their gym next to the couch and their work at the dinner table have rearranged their living spaces to accommodate their new living style. Those with the means and opportunity have started renovating their homes or buying larger ones. Designers are working on creating flexible spaces such as a "bonus room" or are
adding doors and partitions
to previously open-plan areas. More builders are adding mud rooms to homes and are converting attic space into living space.
The takeaway: Covid is making its mark on home design.
From sprucing up an existing room's decor to complete renovations, Covid has influenced, and will continue to influence, design choices. Even when we are finally past this pandemic, we'll be searching for ways to minimize the risk of passing germs to others, protecting our personal space, and looking to the outdoors for relief.